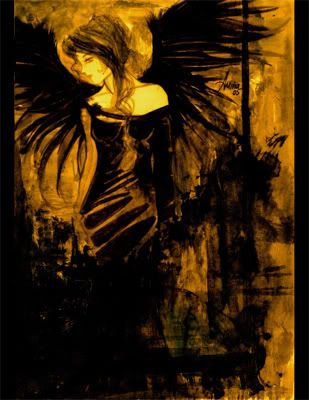 For countless milenia, Hell had kept the fallen angels under guard, keeping them from wreaking havoc upon the universe as they mutiny against God. Satan reigns here, trapt in a frozen lake, punished for his pride. He is in the form of a massive, man-like beast, his wings beating furiously in the air, while his three mouths knaw on three traitors, punishing them for their sins.
From his frozen throne he delagates, to angels which then command demons. The demons torture the souls of all the sinners spread throughout the nine levels of hell. Satan waits and plots, fueled by pride and determined to break free from his prison, while his fallen angels live how they see fit, whether in decadence and sin or constantly plagued by reminders of their Fall.
Possible charaters (you aren't limited to these):
Sinners: Souls condemned to suffer for all of eternity, tortured by demons according to their sin.
Demons: Take orders from the Fallen, and torture souls.
Fallen Angels: Those that joined Lucifer and dissent from God before the creation of Earth.
Off Limits: Lucifer
Helpful Links:
Dante's Hell
Note: Before starting, check the latest posts on
Here
for any updates. There will also be updates or more info right below this, so keep on readin'.
[updated on 11/08/06]
The Truce (also known as the Balance):

When God punished his Sons for exercising their free will, He cast them into Hell, then focused his energies into the creation of the known universe, Eath, and puny man. He saw man Fall, and casted them out of the garden, realizing these sinful weak creatures were unfit to have such a blessing. Despite their brutish, ignorant lives, His heart swelled with joy as they flourished on Earth. Yet He wanted them to suffer, to learn how tiny and insignificant they were. Thus he called upon Satan, who had never stopped his honorable rebellion against this Despot, even though he had been sent to Hell. God, afraid of Satan's power, wanted to placate him, so that he would stop terrorizing the angels. And so the Truce was made. Both angels and demons were allowed to be on earth, and to try to sway humanity one way or another (biblical times). Yet after time, God saw that his frail creatures were too weak to behold the greatness of his Sons, and so the truce was altered. No pure angels of demons could walk the earth, though those of mixed blood or departed spirits could, under certain circumstances. Thus God and our Dark Lord began a more subtle war, the minions of their minions peddling influence on Earth.