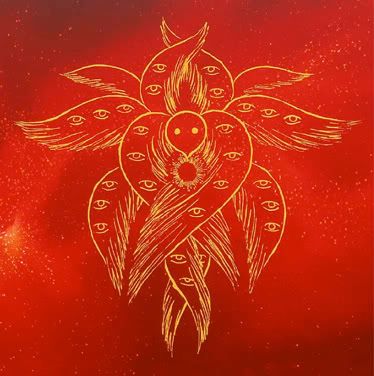 Note: I want to give it about a week or so for people to create characters, and flesh out this world. Of course I still want people creating characters and elaborating on this realm, but what I'm saying is that at this moment, I haven't introduced any major plot events. Even in heaven, God is a secluded fellow, so powerful if anything less than a seraphim sees Him, nothing good will happen. He chooses when and how to talk with his seraphim, also. Remember, you're free to be anybody (except God), but I suggest most of you try not to be the high-ranking angels. You should also try to read up a little on Christian mythology, especially if you want to be an angel named in the bible. I'll be posting some link (mostly wikipedia). Personally, I love reading about this kind of stuff, and I think it'll help the RP. Also, the more powerful you are, the more likely I'll employ some kind of check to your abilities. And remember, power is based on rank and on God's grace, so praying can help!
Info about angels in this world: Their personalities can be anything from remarkably human, to wannabe-god. They are immortal in heaven, earth, and hell. They are not all-powerful, all-knowing or all-seeing. They have free will, and can be subject to all of the temptations and pains of man, but since they live so close to God, their loyalty, sense of worth, and reason for being is much more pronounced and clear to them. They are for the most part, extremely virtuous beings.
The ninth realm of heaven, the largest and closest one to God, shone with a radiance second to only the Great Father Himself. Here dwelled his sacred sons, the angels who acted on his behalf, and helped mankind in His name. The other eight spheres house those unblemished souls who have departed from their earthly body, and now live with God. Yet the angels rarely address these souls, being too concerned with their affairs on earth and in their realm. The Almighty also has withdrawn, for the last milenium scarcely admitting any being into his Empyrean Heaven, except for the occasional communication with his seraphim and cherubim. Thus, the angels, most virtuous and powerful, have taken upon themselves to run the more vulgar affairs of the universe, upholding their hierarchy and dealing with man as He saw fit.
Possible Characters:
A happy soul in heaven
An Angel (has to have a rank in the Angellic Hierarchy, but it can be a character of your choice)
Seraphiel (Chief of the Seraphim, most of your duties will involve announcing the word of God to the other angels. I'll be providing the word of God...)
Off Limits:
God
Michael
Helpful Links:
Angelic Hierarchy
Dante's Heaven
(Angels are in the ninth sphere)
Note: Before starting, check the latest posts on
Here
for any updates. There will also be new stuff added right below, so keep on readin'.
[updated on 11/08/06]
The Balance (also known as the Truce):

When God cast down the rebellious angels into Hell, He then focused his holy energies into the creation of the known universe, Eath, and man. He saw man Fall, and casted them out of the garden. Despite their pain and suffering, His heart swelled with joy as they flourished on Earth. Yet He wanted His creations to be worthy of His love and mercy, thus he called upon Satan, who had never stopped his rebellion, even though he had been sent to Hell. In His love and mercy, he allowed both holy and fallen angels to visit earth. And thus God established the Balance with Satan. Each group tried to sway mankind one way or another, each group tested man's love for God. Yet after time, God saw that this test was too great for man. His Sons were simply too wonderous and powerful. And so the terms were reduced, while the Balance remained in place. Now, no pure angel or fallen angel may walk upon the earth, though those of mixed blood or departed souls may, if God wills it so.