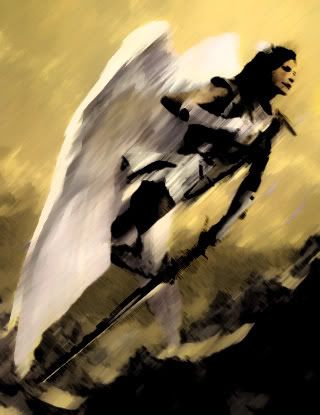 In a world where God has forsaken his favorites,

Where angels don black wings and go down to earth, killing man in His name,

Where demons are the soul protectors of humanity,

Where the people, confused and abandoned wage war and live in fear, unaware of what's going on,



There are no heroes who can stand up against God's wrath. There is no salvation.



It is truly the End of Times





~~~~~~~~~~~~~~~~~~~~~~~~~
God is disappointed. Disgusted. Your capitalism, your commercialism. Your vaunted agnosticism. He's fed up. So the guardians on mankind, the angels, the very beings who have spent century upon century watching over men have been loosed in a bloody mission involving the slow, painful slaughter of every human. Your only defenders now are the denizens of hell, the demons who have made it their business to tempt and deceive. The worst part? Mankind is not privy to any of this, but they're starting to see more and more death. Or maybe the worst part is the growing lack of loyalty in the infernal and celestial realms, the reluctant angels and demons who may end up causing even more chaos by betrayal?

Each day brings more havoc unto the world. The media is in a frenzy. The world leaders, some under the dark angellic influence, ready troops and scheme against each other. Everyone feels something big is coming. Scared, disoriented, and spurred on by the slow methodical killing, they may just make the angels' job much, much easier.

So who will you be? Whether an angel, demon, or human, you are not safe.
~~~~~~~~~~~~~~~~~~~~~~
A NW RP, coming soon.