i know there is already one, but i felt like making my own because that one was rather incomplete. Since i havnt beaten it yet some of this will be taken from others.

Halo 2, the long-awaited sequel to one of the most widely praised, most influential first-person shooters ever created, Had a very tough reputation to live up to. Fortunately, it's built on a foundation that couldnt get any better. But how good is Halo 2 really? With all of the pre-orders and hype about Halo 2, the expectations are massive. The good news is, the sequel to the Xbox's defining action game is an absolutely superb, fully featured game, boasting an excellent presentation, a highly replayable campaign, and the greatest, most complete online multiplayer component in a console shooter yet. A surprisingly disappointing ending and a fairly short single-player portion are noticeable shortcomings, but there's just so much breadth of content in Halo 2, and the action itself is so outstanding, that there can be no denying its quality. Overall, it's one of the very best action games available.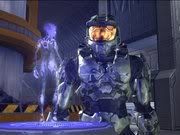 Cortona comes back,
this time hotter than before

There are several reasons why the original Halo ranks up there with a very small number of other first-person shooters as one of the definitive games in the genre. For one thing, Halo succeeded at establishing a cohesive, memorable, and original science-fiction universe. For another, the Master Chief, Halo's cybernetic protagonist, made a great hero. A fearless, enigmatic man, the Chief could succeed where pure flesh-and-blood humans could not, and guiding him to victory against the alien menace known as the Covenant, as well as the parasitic creatures called the Flood, made for a gripping story and an intense and satisfying gameplay experience.
Halo's gameplay was amazing in that it seamlessly integrated top-notch first-person shooting with incredibly fun third-person vehicular sequences and outstanding friendly and enemy artificial intelligence. The game's subtle innovations. The smaller differences can make all the matter in the world, The Ability to only Hold 2 weapons at a time for example was a very revolutionary part of the First Halo, and obviously was continued over to this one. The ability to throw grenades in such a well managed way, and the well created Melee attacks. Halo's multiple, well-balanced difficulty settings, two-player cooperative campaign option, and assorted multiplayer modes also ensured that the game had tons of lasting appeal. All these factors contributed to the game's well-deserved success, and they're all back in Halo 2. For the most part, the sequel takes an "if it ain't broke, don't fix it" approach to its gameplay--everything that you loved about Halo's action is back in full effect here. At the same time, the handful of new additions in Halo 2 are well thought out and well implemented, enriching the gameplay and making it seem fresh but still familiar.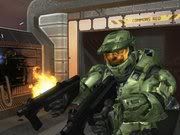 Dual weilding guns is now possible
even though it limits you in other ways.
Everything that you maybe didn't love about Halo is pretty much back, too. Let's face it: Halo was an incredible game, but some aspects of it were relatively weak. Most notably, many players felt that the game's occasionally repetitive level designs undermined the action, i personally didnt mind it but i know many people that did, these repetative levels such as when the Master Chief squared off against the Flood in the infamous Library level. Also, though the game's visuals were terrific in the heat of battle. If anyone remembers from the original Halo, there were a few instances in which the game would actually lag (an excessive amount of blood on the screen being a key example), but this problem seems to have been remedied. Halo's cinematic cutscenes using the game's 3D engine left a lot to be desired--they looked decidedly rough when compared with the rest of the game. These shortcomings rear their heads again in Halo 2, at least during the game's campaign. Some of the in-engine cutscenes are kind of ugly, though they're much better than those of the original. Meanwhile, the action itself is as dynamic and intense as ever, to the point where it can be tons of fun to replay the same sequence over and over, since you'll find that the friendly and enemy forces you'll be battling with will never act quite the same way twice. However, Halo 2's campaign--though it features a number of memorable, spectacular set pieces--frequently boils down to straight-up run-and-gun corridor crawls, one after another.
easily the worst part about the story is the way it ends, insofar as it doesn't. You'll run into this game's cliff-hanger ending like a compact car into a brick wall, and you'll certainly be left aching for more.
Halo 2 plays very similarly to the original, but there are some key differences. Your jump has been significantly altered, with no fall damage being the most noticable thing (however, the air pressure from long falls will still kill you). There's no longer a health meter to worry about, which might sound like a pretty severe change, but it simply means that, unlike in the original game, you never need to concern yourself with finding health packs. It's just you and your recharging energy shields, which again give the game its tactical pacing--a slightly faster pacing than before, actually, since your shields recharge more quickly than in Halo. The main stratagy is limited to run in and gun stuff down untill your shields are depleted, then retreat to cover. It sounds somewhat repetative but it actually never seems to get that bad.
It's now possible to dual-wield some weapons--the smaller, one-handed ones. This isn't exactly an original feature, but Halo 2 implements it very well, both in single-player and multiplayer. When you're dual-wielding, you can independently fire both weapons using the left and right shoulder buttons. This leads to double the stopping power, makes some previously underpowered weapons (such as the needler) quite potent when used in tandem, and creates the potential for some inventive weapon combinations. On the other hand, while dual-wielding, you cannot throw your frag grenades or plasma grenades (which any Halo player knows are extremely useful), and you cannot execute melee attacks without automatically dropping the off-hand weapon in the process. So, dual-wielding doesn't dominate the game; it has its place, and it's an interesting addition to the game's tactics.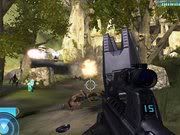 The new Battle Rifle completly
replaces the old Assault Rifle
Halo 2 also sports a few vehicles not seen in the original, but the first game's vehicles get most of the attention. Fortunately, they've all been freshened up a bit. The Warthog can now powerslide for even tighter turns than it was capable of before. The Ghost, which you'll remember as the Covenant's one-man attack hoverbike, is probably the most fun-to-drive vehicle in the game now, thanks to the addition of an afterburner that makes it superfast and very deadly as a battering ram (the Ghost's plasma cannons are disabled while boosting, though). The Banshee, the Covenant's hang-glider-style flying vehicle, can now perform barrel rolls and loop-de-loops, and it also has an afterburner-style boost. It has a powerful main cannon that you'll get to use in the single-player portion of the game, but in multiplayer it's limited to its rapid-fire plasma guns.
Also, all the vehicles in Halo 2 now noticeably sustain damage when struck, but this effect is mostly cosmetic. It looks really terrific, to be sure--location-specific damage means you'll see the vehicles get shot apart piece by piece, depending on how you hit them. However, even if you're piloting a burning husk of a vehicle that seems held together by duct tape, chewing gum, and hope, it won't blow up unless your shield meter is depleted and you're killed as per usual. There have been a few instances in which I have experianced a vechicle blow up without the MC dying, but it seems to take substantial damage to be delt to your vehicle for that to happen.
The Warthog is back, and this
time it sports a spiffy horn.
However, Halo's enduring appeal comes from its sublime multiplayer mode and it is here that Halo 2's limitless lifespan lies. The multiplayer mode is quite simply gaming nirvana. It is paradise in video game form. There's a huge range of modes - regular and team deathmatch, capture the flag, territories (where you must hold certain locations for a length of time), bombing run and many more, with a number of variations and all fully customisable. With full and comprehensive Xbox Live support for up to 16 players, this is a game that is going to last and last and last on Live. There will be a strong following playing this until the Xbox is superseded by Xbox 2; of this you can be certain.
Having stayed up until five in the morning for a mammoth Halo 2 online session already, I can safely say that while I've only scratched the surface and will doubtless put in hundreds of hours online over the coming months, this is no question the best online game and best multiplayer game available on Xbox and arguably on any games machine, console or PC. Additionally, you can have up to four players playing split screen online on one Xbox, so you can go online with your friends in your own living room against people all around the world. My brother and I tried this out and it was utterly brilliant to be able to team up together or split up and co-ordinate our efforts. There are so many options, so many weapons and vehicles to master, so many game modes and it's all presented in such a user-friendly and simplified fashion that the potential is limitless. The only thing that is limited in fact is the number of multiplayer maps available.
That's the one thing I'm the tiniest bit disappointed about - I had hoped for a few more maps (there are just over a dozen). I'm sure there will be more downloads to come on Xbox Live and if Bungie want a couple of quid for the new levels then I will pay out with a big smile on my face - they deserve to make a fortune from this, they've worked so hard and given it everything they've got and it has really paid off. The multiplayer mode is gaming at its purest - running around shooting people has never been so cerebral and you have so many options at your disposal; grab a sniper rifle, find a sneaky spot and start taking people out, charge in with double SMGs or a battle rifle, hop in the gunner seat of a Warthog while a team mate drives you around, fly a Banshee or pilot a Ghost, grab an energy sword to get up close and personal… the choice is always yours.
this isnt all original work, some of it incorperated from other reviews including gamespot but edited as to be relavent to this review.
Gameplay - 9
Graphics - 9
Sound - 10
Value (including game life) - 10

total - 9.5/10